ΕΡΕΥΝΗΤΙΚΗ ΟΜΑΔΑ 5
Τίτλος: «Κυτταρική Σηματοδότηση και Φαρμακολογία»
Υπεύθυνος: Ανδρέας Παπαπετρόπουλος
Συνεργάτης: 
Αθανασία Χατζηαναστασίου, PhD
Cellular Signalling and Pharmacology group
Dr. Papapetropoulos joined the "George P. Livanos" Laboratory, the first basic science research unit established and supported by the Thorax Foundation in Evangelismos Hospital in 1999. He was recruited to lead the development of the basic science program of the Department of Critical Care and Pulmonary Services under the directorship of Prof. Charis Roussos. Dr. Papapetropoulos received his bachelor's degree in Pharmacy from the University of Patras and earned his PhD in Pharmacology at the Medical College of Georgia.  From 1995-1998 he was a Research Fellow at Yale University. Upon returning to Greece he spent 4 years as Assistant Professor at the University of Athens, before moving to the University of Patras where he rose to the rank of Professor of Pharmacology. Since 2013 he is Professor of Pharmacology at the Department of Pharmacy of the University of Athens.
Research interests
The main focus of our research team has been the regulation and physiological functions of the nitric oxide/cGMP pathway and their contribution to disease initiation and progression. We have explored the therapeutic potential of modulators of the NO/cGMP pathway in cardiovascular and lung disease and have studied the pharmacology of nitric oxide donors, phosphodiesterase inhibitors, and soluble guanylyl cyclase activators and stimulators. We have found that sGC activators and stimulators have beneficial effects in several models of inflammatory and obstructive airway disease (asthma and COPD) and acute lung injury.  
More recently, our group has expanded its work on gasotransmitters other than NO, such as carbon monoxide and hydrogen sulfide. Our interest in H2S was fuelled by the multiple parallels between H2S and NO, the shortage of knowledge on the biological roles of H2S, and its potential as a therapeutic target. Existing evidence suggests that NO and H2S in some systems exhibit synergistic actions, while in others have antagonistic behaviour. Our research goal is to better understand H2S signalling and to study the complex cross-talk between gasotransmitters in the context of airway inflammation, sepsis and critical illness.
In a separate line of research, we have studied the biology of angiopoietins (Ang), a family of angiogenesis-related growth factors. We have focused our efforts in unravelling the effects of Ang in endothelial barrier function and inflammation. We have also tested the utility of angiogpoetin-2 as a biomarker in sepsis. 
Selected Publications
 A. Kotanidou, A. Xagorari, E. Bagli, P. Kitsanta, T. Fotsis, A. Papapetropoulos,  Ch. Roussos. Luteolin reduces lipopolysaccharide-induced lethal toxicity and expression of proinflammatory molecules in mice. Am J Respir Crit Care Med 165:818-823, 2002
I. Kosmidou, T. Vassilakopoulos, A. Xagorari, S. Zakynthinos, A. Papapetropoulos, Ch. Roussos. Production of interleukin –6 by skeletal myotubes:role of reactive oxygen species Am. J. Resp. Cell Mol. Biol.. 26:587-593, 2002
Z. Zhou, S. Gross, C. Roussos, S Meurer, W. Müller-Esterl and A. Papapetropoulos. Structural and functional characterization of the dimerization region of soluble guanylyl cyclase. J. Biol. Chem. 279:24935-24943, 2004
Papapetropoulos A, Zhou Z, Gerassimou C, Yetik G, Venema RC, Roussos C, Sessa WC, and Catravas JD. Interaction between hsp90 and soluble guanylyl cyclase: physiological significance and mapping of the domains mediating binding. Mol Pharmacol. 68:1133-41, 2005.
 Papapetropoulos A, Simoes DC, Xanthou G, Roussos C, and Gratziou C. Soluble guanylyl cyclase expression is reduced in allergic asthma. Am J Physiol Lung Cell Mol Physiol. 290:L179-84, 2006 
S. E. Orfanos, A. Kotanidou, C. Glynos, C. Athanasiou, S. Tsigkos, I. Dimopoulou, C. Sotiropoulou, S. Zakynthinos, A. Armaganidis, A. Papapetropoulos, Ch. Roussos. Angiopoietin-2 is increased in severe sepsis: correlation with inflammatory mediators. Crit. Care Med. 35:199-206, 2007
C. Glynos, A. Kotanidou, S.E. Orfanos, Z. Zhou, D.C. Simoes, C. Magkou, Ch. Roussos, A. Papapetropoulos, Soluble Guanylyl Cyclase Expression is Reduced in LPS-induced Lung Injury. Am J Physiol Regul Integr Comp Physiol. 292: R1448-55, 2007.
D.C. Simoes, T. Vassilakopoulos, D. Toumpanakis, K. Petrochilou, C. Roussos, A. Papapetropoulos. Angiopoietin-1 Protects Against Airway Inflammation and Hyperreactivity in Asthma. Am J Respir Crit Care Med. 177:1314-21, 2008 
A. Papapetropoulos, Pyriochou A, Altaany Z, Yang G, Marazioti A, Zhou Z, Jeschked MG, Branskid L.K., Herndon D.N., Wang R. and Szabo C. Hydrogen sulfide is an endogenous stimulator of angiogenesis. Proc Natl. Acad Sci USA 106:21972-7, 2009
M. Bucci¸ A. Papapetropoulos , V. Vellecco, Z. Zhou, A. Pyriochou, C. Roussos, F. Roviezzo, V. Brancaleone, G. Cirino. Hydrogen Sulfide Is an Endogenous Inhibitor of Phosphodiesterase Activity Arterioscler Thromb Vasc Biol. 30:1998-2004, 2010
C. Coletta, A. Papapetropoulos, K. Erdelyi, G. Olah, K. Modis, P. Panopoulos, D. Gero, C. Szabo. Hydrogen sulfide and nitric oxide are mutually dependent in the regulation of vascular function. Proc Natl Acad Sci USA 109:9161-6, 2012.
M. Bucci, A. Papapetropoulos, V. Vellecco, Z. Zhou, A. Zaid, P. Giannogonas, A. Cantalupo, S. Dhayade, K. P. Karalis, R. Wang, R. Feil, G. Cirino. cGMP-dependent protein kinase contributes to hydrogen sulfidestimulated vasorelaxation. PLOS One 7:e53319. doi: 10.1371/journal.pone.0053319, 2012
A. Asimakopoulou, P. Panopoulos, C. T. Chasapis, C. Coletta, Z. Zhou, G. Cirino, A. Giannis, C. Szabo, G. A. Spyroulias, A. Papapetropoulos. Selectivity of commonly used pharmacological inhibitors for cystathionine beta synthase (CBS) and cystathionine gamma lyase (CSE). Br. J. Pharmacol.  169: 922–932, 2013.
C. Glynos, L. L. Dupont, T. Vassilakopoulos, A. Papapetropoulos, P. Brouckaert, A. Giannis, G. F. Joos, K. R. Bracke, G. G. Brusselle.The role of soluble guanylyl cyclase in Chronic Obstructive Pulmonary Disease. Am. J. Respir Crit. Care Med. In press
Team members
Zongmin Zhou, Ph.D. 2001-present
Nasa Chatzianastasiou, MSc, 1998-present
Kostantinos Glynos MD, PhD, 2012-present
Antonia Asimakopoulou, MSc, 2012-present
Thani Pavlidou, MSc, 2013-present
Sofia-Iris Bibli, MSc, 2013-present
Past team members
Ioanna Kosmidou, MD, 1998-2002
Xagorari Aggeliki, Ph.D. 1999-2001
Roula Andreopoulos, Ph.D. 1999-2000
Stelios Tsigkos, MD, 2001-2007
Christina Gerassimou, M.Sc., 2002-2007
Davina Simoes, Ph.D. 2003-2009
George Haramis, MD, 2006-2008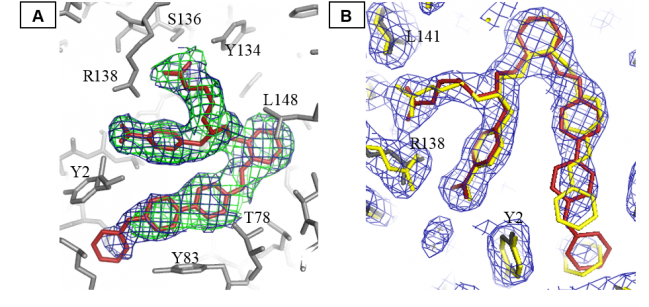 Figure 1

Figure 2
Figure 1: (A) Omit electron density maps for 20 (red sticks) bound to heme binding pocket of C139A H-NOX (gray sticks, interacting amino acids are labeled) (2Fo-Fc omit density in blue at 0.9σ and FoFc omit density in green @ 3.0σ). (B) 2Fo-Fc map (blue color at 1.0σ) for 20 (in red color) showing no well defined density for the terminal benzyl ring. For comparison, BAY 58-2667 is shown in yellow and the residues are labeled.
Figure 2: (A) Superposition of 20 bound C139A structure and BAY 58-2667 bound Ns H-NOX structure, 20 is shown in red spheres and BAY 58-2667 is shown in yellow spheres. C139A:20 protein is shown in gray cartoon and sticks while Ns H-NOX:BAY 58-2667 protein is shown in yellow cartoon and sticks. This picture clearly shows that the αF helix in both structures does not alter its position whereas its C-terminus residues (110-114) have changed significantly. (B) 20 is shown in red sticks and BAY 58-2667 is shown in yellow sticks. C139A protein is shown in gray sticks and Ns H-NOX is shown in yellow sticks. 2Fo-Fc map is shown in blue at 1σ. The terminal benzyl ring of 20 when bound to Ns H-NOX clearly forces the phenyl ring of F112 away from the loop. (C) Distances between the atoms of the superposed loop region comprising of 111-113 residues.